News
> Parazine no. 003: Third issue of Parasophia's semi-official newspaper
Parazine no. 003: Third issue of Parasophia's semi-official newspaper
Nov. 27, 2014 (Thu.) 18:08
The third issue of Parasophia's semi-official newspaper, Parazine (ISSN 2188-5435), was published this fall. Parazine is made by editor-in-chief and Professional Advisory Board member Hiroshi Yoshioka (Professor of Aesthetics and Theory of Arts, Kyoto University) and more than twenty undergraduate and graduate students and others from the Kansai region. Its unique distance from Parasophia itself has come to be recognized as one of its most important traits.
The contents of Parazine no. 003 (Autumn 2014) include a round-table discussion on war by Yoshioka and the students and a feature on KUAD Graduates Under 30 Selected with Parazine Award winner Kai Maetani, among a couple of other artists who participated in the exhibition. (See table of contents on the Publications page for more.)
The paper is available in various locations throughout Japan. The PDF version of Parazine no. 003 (in Japanese only) can be downloaded in the Publications section of our website.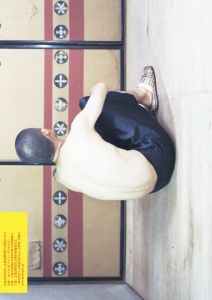 See also:
Parazine: Parasophia's semi-official newspaper by students (May 23, 2014)
Parazine Award announced for KUAD Graduates Under 30 Selected (Aug. 4, 2014)