News
> Parazine Award announced for KUAD Graduates Under 30 Selected
Parazine Award announced for KUAD Graduates Under 30 Selected
Aug. 4, 2014 (Mon.) 18:01
The awards ceremony for
KUAD Graduates Under 30 Selected
, a submission-based exhibition featuring former students from the Kyoto University of Art and Design (KUAD), was held on August 2. The
Parazine
Award, named for Parasophia's semi-official newspaper, was awarded to Kai Maetani for his work titled
Portrait of the Man
. The work consists of an inkjet print of a photograph of Maetani posing as a former housemate who had previously refused the artist's request to make a portrait of him, accompanied by a letter to the same housemate about this work. Maetani describes
Portrait of the Man
as a work that is positioned between himself and his subject, which he created as an exploration of the ways in which he can relate with the other.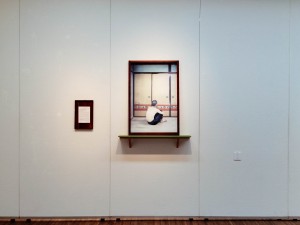 Kai Maetani,
Portrait of the Man
, 2014
Inkjet print
Installation view,
KUAD graduates under 30 selected
, Gallery Aube, Kyoto University of Art and Design, 2014
The jury for the Parazine Award was headed by
Parazine
's editor-in-chief Hiroshi Yoshioka (Parasophia
Professional Advisory Board
member; Professor of Aesthetics and Theory of Arts, Kyoto University), with students and others involved with
Parazine
as members of the jury. Many artists were mentioned in the jury meeting immediately after seeing the exhibition on the opening day, but after several rounds of voting and discussions, Maetani's work was selected for his cryptic "
para
-fication" of the relationship between self and other. Maetani, who was also selected for the Kyoto Art Center Art Coordinator Award, briefly commented on his humble aspiration to keep working to make better works. He also announced that he will be showing his work in October at Yebisu Art Labo in Nagoya. Maetani's work will be featured on the cover of
Parazine
no. 003, along with an interview.
Parazine
no. 003 is scheduled to be published this fall.
Before the awards ceremony, on August 1, KUAD's Gallery Aube also hosted a lecture by
Parasophia: Kyoto International Festival of Contemporary Culture 2015
's curator Yoshihiro Nakatani in connection with this exhibition. Nakatani discussed the history of Asian biennial and triennial exhibitions of contemporary art, and how Parasophia will tie into this history.
KUAD Graduates Under 30 Selected
is open until August 7 (Thu.) at Gallery Aube, Kyoto University of Art and Design.
Galerie Aube – KUAD graduates under 30 selected:
aube.kyoto-art.ac.jp/archives/1378
(in Japanese only)