News
> Parazine: Parasophia's semi-official newspaper by students
Parazine: Parasophia's semi-official newspaper by students
May 23, 2014 (Fri.) 21:56
The inaugural issue of
Parazine
(ISSN 2188-5435),
Parasophia's semi-official newspaper
by editor-in-chief and
Professional Advisory Board
member Hiroshi Yoshioka (Professor of Aesthetics and Theory of Arts, Kyoto University) and more than twenty undergraduate and graduate students from the Kansai region, was published on April 4.
Parazine
no. 001 (Spring 2014) features an introductory text by Yoshioka; "PARA- WHAT??," an in-depth round-table discussion between Yoshioka and the students ultimately on universal issues, with Parasophia and this paper itself as a starting point; "Cinema Parachute no. 1: Hannah Arendt" by Jihye Yun; "Parasophia au Monde no. 1: Nuit Blanche à Paris" by Miki Okubo; "
Forumanto Kyōdai no Parasophia
[The Formant Brothers' Parasophia]" by Nobuyasu Sakonda; and a chronology of the uniquely long process of creating this first issue.
Around mid-April, the paper was distributed through various locations throughout the country. With more and more locations going out of stock and many inquiries still being made to the Parasophia Office, the Office and the
Parazine
team have decided to make a PDF version of the paper available on Parasophia's website. The PDF version of
Parazine
no. 001 (in Japanese only) can be downloaded in the
Publications
section of our website.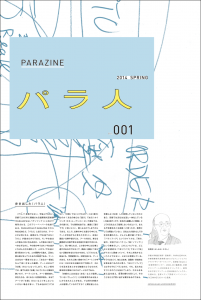 Also, on April 1, the Japanese online magazine
AMeeT
published an interview with editor-in-chief Yoshioka by Jihye Yun and Jun Asami, two of the students on the editorial team. The interview gives a full picture of the project's background, as well as what Yoshioka has in mind for
Parazine
for this first issue and beyond.
AMeeT:
www.ameet.jp
(in Japanese only)
AMeeT Feature – Parazine interview with Hiroshi Yoshioka:
www.ameet.jp/feature/feature_20140401
(in Japanese only)
See also:
Semi-official newspaper by students in the making, leads to grant from the Nissha Foundation for Printing Culture and Technology
(March 8, 2014)