News
> Parazine no. 002: Second issue of Parasophia's semi-official newspaper
Parazine no. 002: Second issue of Parasophia's semi-official newspaper
Sept. 18, 2014 (Thu.) 21:20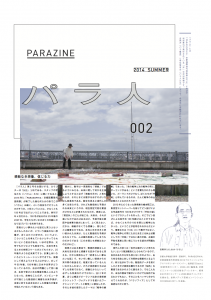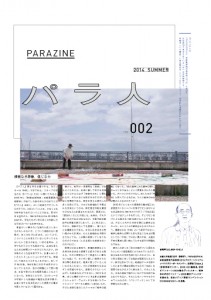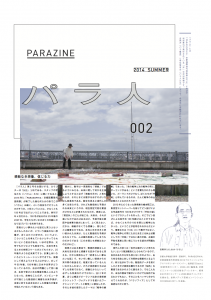 The second issue of Parasophia's semi-official newspaper,
Parazine
(ISSN 2188-5435), was published this summer.
Parazine
is made by editor-in-chief and
Professional Advisory Board
member Hiroshi Yoshioka (Professor of Aesthetics and Theory of Arts, Kyoto University) and more than twenty undergraduate and graduate students and others from the Kansai region. Its unique distance from Parasophia itself has come to be recognized as one of its most important traits.
Parazine
no. 002 (Summer 2014) features an introductory text by Yoshioka; "
Toriisogi, shiawase
," a round-table discussion between Yoshioka and the students centered on the theme of happiness; "Cinema Parachute no. 2: After Life ×
Kūhaku wo mitashinasai
" by Jihye Yun, on Hirokazu Koreeda's 1998 film
After Life
and Keiichiro Hirano's 2012 novel
Kūhaku wo mitashinasai
[Fill in the blanks]; "Parasophia au Monde no. 2: Parasophia à Avignon" by Miki Okubo; "Parazine Pharmacy's Prescriptions for 'Happiness'" by Yuka Hashimoto; "Keisuke Kitano's Parasophia" by Keisuke Kitano; "Noboru Tsubaki's Parasophia" by Noboru Tsubaki; a literary review by Nana Takahashi on one of the short stories included in
Yokoso, chikyu-san
[Welcome, earth] by Shinichi Hoshi, published in 1961; an exhibition review by Jun Asami on
Will Happiness Find Me? 10 artists from the Ishikawa Collection, Okayama
at Tokyo Opera City Art Gallery (
www.operacity.jp/ag/exh163/index_e.html
); and a chronology leading to the publication of this issue.
The paper is available in various locations throughout Japan. The PDF version of
Parazine
no. 002 (in Japanese only) can be downloaded in the
Publications
section of our website.
See also:
Parazine: Parasophia's semi-official newspaper by students
(May 23, 2014)