News
> Workshop and lecture for Kyoto Art Center's "Exhibition Draft 2015"
Workshop and lecture for Kyoto Art Center's "Exhibition Draft 2015"
Mar. 31, 2014 (Mon.) 14:01
Starting on April 1, the Kyoto Art Center will be making an open call for exhibition proposals for "Exhibition Draft 2015." The competition, which will be held in connection with
Parasophia: Kyoto International Festival of Contemporary Culture 2015
, has a two-stage review process: First, a short list of four competitors will be selected in early May. On June 14, 2015, the four competitors will publicly present their exhibition proposals to
Parasophia
's artistic director Shinji Kohmoto, who will then select the winner of the competition. The winner will receive funding for the proposed exhibition, which will be held at the Kyoto Art Center during
Parasophia
.
Before making the call for proposals, the Kyoto Art Center presented a workshop by
Professional Advisory Board
member Yukihiro Hirayoshi (Executive Committee Member, Kyoto Art Center; Associate Professor, Museum and Archives, Kyoto Institute of Technology) as well as lectures by Kohmoto and Professional Advisory Board member Yukie Kamiya (Chief Curator, Hiroshima City Museum of Contemporary Art) as an introductory course for prospective participants.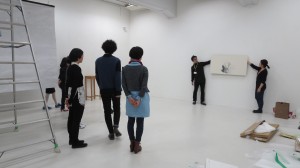 Workshop on March 15 (Photo courtesy of Kyoto Art Center)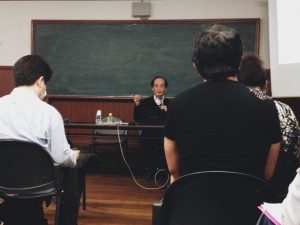 Bottom: Lecture on March 29
On March 15, Hirayoshi acted as the facilitator for a hands-on workshop that gave participants the opportunity to actually experience the issues and tasks that emerge in the process of installing an exhibition, using real artworks and a gallery in the art center. Workshop participants first examined and considered the subject and size of the works, the space's characteristics, and what the exhibition's visitor movement patterns would be. The participants exchanged their views on these points, and with tips from Hirayoshi, they installed an exhibition using these works. This exhibition was on view in the North Gallery at the Kyoto Art Center with the title
landscape—Kyoto no fuukei
[Landscape: Kyoto landscapes] from March 16 to 23.
On March 29, Kohmoto delivered a lecture on the subject of "Thinking about Contemporary Art through the History of Art Museums," in which he spoke about the history of the art museum and how they work, the structure and development of art exhibitions, and the definition of "contemporary art." His brief discussion of Marcel Duchamp can be read in fuller detail in a transcript of a lecture he delivered in 2011 at the Mori Art Museum, available in Japanese on the bilingual online art magazine ART iT. The question-and-answer session after the lecture included questions about
Parasophia: Kyoto International Festival of Contemporary Culture 2015
, showing that there were participants who were not only interested in the "Exhibition Draft" program and curation, but also in the international exhibition to be held next year.
On the next day, March 30, Kamiya spoke about the hows and whys of thinking about and making an exhibition, or her own thought process as the curator for actual exhibitions. First, she presented her most basic questions in planning an exhibition, and led a discussion on different types of exhibitions, such as solo exhibitions, group exhibitions, and further categories within these. She then made case studies out of her work with the artists Tsuyoshi Ozawa, Martin Creed, and Simon Starling, with whom she worked on solo exhibitions and new works, and her 2010 group exhibition at the Hiroshima City Museum of Contemporary Art titled
More of an Activity: The Artist as Choreographer
. With each case study, Kamiya discussed specific points that she considered as the curator, and gave a detailed account of the process of working with each artist (or artists).
Proposals for "Exhibition Draft 2015" will be accepted from April 1 to 20. There are no limits regarding the artworks' genre or the applicant's gender/age/nationality. For further information, please contact the Kyoto Art Center.
Kyoto Art Center:
www.kac.or.jp/eng
Exhibition Draft 2015:
www.kac.or.jp/10831
(in Japanese only)
[Exhibition Draft 2015] Curator workshop:
www.kac.or.jp/events/10742
(in Japanese only)
landscape—Kyoto no fuukei
:
www.kac.or.jp/events/11706
(in Japanese only)
[Exhibition Draft 2015] Curator course:
www.kac.or.jp/events/10847
(in Japanese only)
Transcript of lecture on Marcel Duchamp by Shinji Kohmoto, Mori Art Museum, 2011 (ART iT):
www.art-it.asia/u/admin_lec/seUiBftqE1R53Jzp0NyT
(in Japanese only)
See also:
Short list announced for Kyoto Art Center's "Exhibition Draft 2015"
(June 12, 2014)