News
> Opens today: Prelude [Exhibition] William Kentridge: The Refusal of Time
Opens today: Prelude [Exhibition] William Kentridge: The Refusal of Time
Feb. 8, 2014 (Sat.) 23:13
Parasophia: Kyoto International Festival of Contemporary Culture 2015 Prelude [Exhibition] William Kentridge: The Refusal of Time
opened today at the former Rissei Elementary School.
Following Documenta 13, for which it was commissioned,
The Refusal of Time
was or is currently being shown at MAXXI – National Museum of the 21st Century Arts in Rome, Van Abbemuseum in Eindhoven, Netherlands, the Metropolitan Museum of Art in New York, and more locations including including Brazil and Australia. The work has been receiving great popular and critical acclaim in each of these venues, and it is now being shown for the very first time in Asia here in Kyoto.
The Refusal of Time
is a complex installation that is designed according to the environment and characteristics of each venue, and the installation in the auditorium of the former Rissei Elementary School was also designed specifically for this exhibition.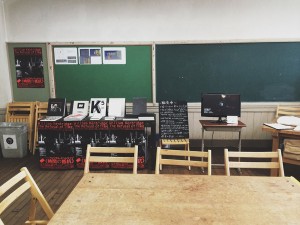 The classroom next to the auditorium has been reinvented as our Study Room. For the duration of the exhibition, visitors are invited to relax in the Study Room and to look at the various materials related to William Kentridge,
The Refusal of Time
, and the
Access Program
lecturers invited to speak with various themes and perspectives: The history of cinematography, narrative generation, social philosophy, science/physics, and aesthetics and theory of art. All Access Program lectures are in Japanese only, and require reservations through the application form linked
here
. Also located in the Study Room are a pop-up shop corner with related publications and a monitor playing a making-of video of the Kyoto installation in progress, both shown in the photo above. Be sure to drop by after seeing the installation.