News
> Prelude Volunteer Induction & Training Program, Course 1: Introducing the Museum of Art
Prelude Volunteer Induction & Training Program, Course 1: Introducing the Museum of Art
Jan. 15, 2014 (Wed.) 21:38
The first course of our induction and training program for our volunteers who will be providing their support for
Prelude [Exhibition] William Kentridge: The Refusal of Time
was held on December 22 and 23. Participation on one of the two days was mandatory for all volunteers. The goal of this course, titled "Introducing the Museum of Art," was for our volunteers have a close look at the institution known as the museum of art, particularly the museums where the two sessions took place.
The first session (December 22) was held at the Kyoto Municipal Museum of Art, which is scheduled to be the main venue for
Parasophia: Kyoto International Festival of Contemporary Culture 2015
. The session opened with an introductory lecture by our artistic director, Shinji Kohmoto, and a lecture on public programs and the arts by
Professional Advisory Board
member Sachiko Sugiura (Associate Professor, Department of Art Policy and Management, Musashino Art University, Kodaira, Tokyo). The participants were then split up to have group discussions based on these lectures, followed by group presentations and a general discussion. After a short break, our curator Yoshihiro Nakatani gave a historic tour of the museum.
The second session (December 23) was held at the National Museum of Modern Art, Kyoto (MoMAK). After Kohmoto and Sugiura's lectures, and the group discussions and presentations, participants of the second session went on a behind-the-scenes tour of the museum, given by MoMAK curator Chinatsu Makiguchi.
Both sessions presented our volunteers with the opportunity to get to know the back story and inner workings of the museum of art. A detailed report on the first session by one of our volunteers can be found in the Japanese version of this article (click on "Japanese" in the upper right-hand corner; available in Japanese only).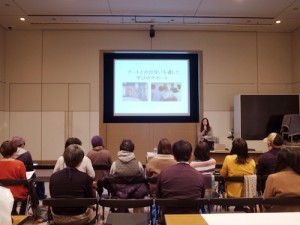 Photo taken during the second session (December 23)
* Our call for volunteers for our prelude exhibition is closed.
Kyoto Municipal Museum of Art:
www.city.kyoto.jp/bunshi/kmma/en
The National Museum of Modern Art, Kyoto:
www.momak.go.jp/English